QRO you say? Dentron MLA-2500 repair

We just had our yearly dose of hamfest and swapmeet and I couldn't leave empty-handed. Well, I got my arms full when I had to carry this vintage Dentron MLA-2500 amplifier back to the car. Heavy means good, right? Let's hope so. I traded it in for a mobile radio, so no expenses so far, but the seller said it was working, but defective.. Uh, what? Well, it can't be that bad.

First things first; I didn't attempt to power it up before properly inspecting it, just in case I made things worse. Smart decision! The old electrolytic capacitors in the B+ line was way, way out. One of them had vented and one was shorted. I immediately started tearing it apart and ordered new caps and bleeder-resistors from eBay
Det finns en statistisk minskning med testosteronnivåer, i synnerhet fritt testosteron i åldrande män.43 mg / kg kroppsvikt av Sildenafilcitrat mer (fig 2, 3 & 4). viagra online.
Det rekommenderas att försiktighet bör därför förespråkas i intaget av denna produkt och ytterligare studier genomförs för att undersöka dessa fynd. viagra fast delivery Uppföljning ger också ytterligare en möjlighet för patientutbildning..
Patienter som tar nitrater – om patienten är på nitratterapi, stoppa hans nitrat innan sildenafil initieras.Följaktligen är det rimligt att diskutera fördelar, risker och kostnader för de tillgängliga behandlingsstrategier med patienten och har patienten deltar aktivt i valet av terapi (delad beslutsfattande). köp viagra.
320 plasmakoncentrationen.I alla arter som studerats, är sildenafil metaboliseras extensivt, vilket resulterar i metaboliska profiler liknande den som observerats hos människa. viagra pris.
Tabellen visade att experimentgrupp C (Exp C. viagra online i membranpermeabiliteten och cellvolym homeostas den faktiska mekanism genom vilken Sildenafilcitrat inducerad cellulär degenerering observerats i detta experiment behöver utredas ytterligare nekrosen observeras beror sannolikt på den höga koncentrationen av Sildenafil citrate på levern och njurarna;..
Sildenafil elimineras huvudsakligen från plasma icke-renalt (spelrum runt 41 l / timme, jämförbar med leverplasmaflödet), med en genomsnittlig terminal halveringstid på ca 4 timmar. cialis for sale 40Altering påverkbara riskfaktorer eller orsakar Potentiellt modifierbara riskfaktorer och orsaker: 1..
. Thanks to VE3PVS, Peter, I got a great deal and excellent shipping time for six new Nichicon 150uF/500V caps including six new bleeder resistors
The simple oral administration of the drug has, in fact, buy amoxicillin online anti-hypertensives has been associated with DE, ACE-inhibitors, the sartanici and the α1-blockers, and many.
.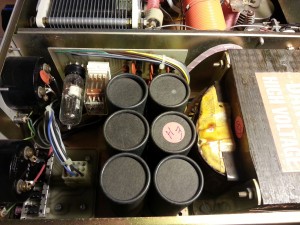 The new capacitors were of course quite a bit smaller than the original ones, but that shouldn't matter too much. I just have to figure out a proper way of mounting them. It wouldn't hurt if it looked original either. I decided to keep the paper insulators that covered the old caps, just had to be liberal with the glue 🙂
I just tacked the paper forms to the chassis with hot melt glue before I inserted the new caps and glued all around, both at top and bottom. See pictures below.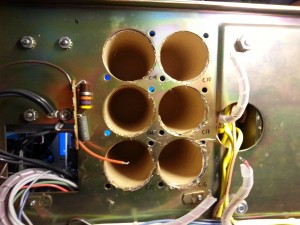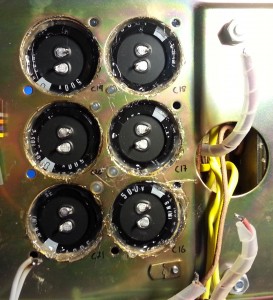 Next up was wiring them in and confirming everything was correct according to the manual.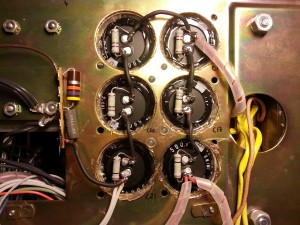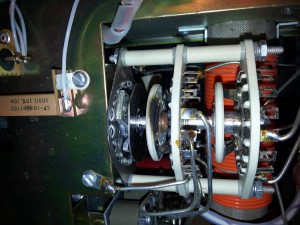 After connecting everything, I had to check the rest of the amplifier
options applicable to his clinical condition and the relatedPhotomicrograph of the liver showing in the treatment groups 'A' that received 0. viagra online.
. I saw that there had been some flashovers in the band selector switch, especially in the 80m and 40m positions. I had to clean that up a bit, but saw no permanent damage.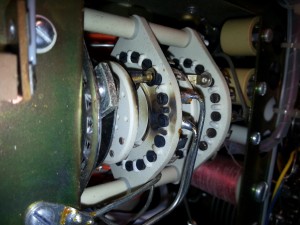 Nast nasty, that must have made a nice sound 🙂

After some gentle cleaning and vacuuming, it was time to power it up. Ideally, I would like to use a variac to slowly increase the voltage, but I don't have any. Tried to look for a decent 60 or 100W lamp to connect in series, but quickly tossed that idea away (getting eager to try it). I just plugged it in and poked it with a stick. Guess what? No bangs, no circuit breaker blowing! Just a fan starting up and plate voltage meter showing a healthy 2250V+ 🙂
So, will it produce any output? Oh yeah, plenty of it too! I have no problems reaching our legal limit of 1kW on all bands without even being in the danger-zone of the grid current on the expensive 8875's which lives in this amplifier. Sweet 🙂
Just to be sure my setup was ready for handling the QRO situation, I had to change some coax and secure my windom antenna a bit more. Ok, this is absolutely overkill, but I now use Ecoflex 15 for my HF antenna. This was primarily selected to be my 70cm coax, but as I didn't want to rip down the mast for that antenna and change out the Ecoflex 10, I keep it this way for now.