Whispers in the wind – WSPR

Are you familiar with WSPR made by Joe Taylor (K1JT)? Well, I am and have been using it for some time now
.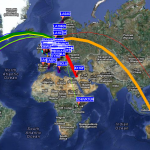 It's very occasionally due to other uses for my antenna and radio. If I am home and have the time to do something else than occupying any gear, I will set up my FT-817 to transmit and receive WSPR. There's no set pattern for which days I use on the bands, but I concentrate on 40, 30, 15 and 10 meters. It could be nice to let other hams know that 10 meters is open from northern Europe to Australia for example – and that's what this tool is foor, seeing the current propagation.
WSPR is a mode designed to take up as little bandwidth as possible and is usually QRP. I have mine set up to transmit 0.5W, but will occasionally turn it down even further
. You can't have a normal QSO over this mode, as the transmitted data is only a short string consisting of callsign, locator and power. One transmission takes just about two minutes! With that being said, I have actually received QSL-cards using this mode, but I'm not keeping a log for this mode – it is somewhat complicated parsing the logs this program generates. If anyone know of a great tool to convert the logs into an ADIF-file, please drop me a line 🙂
How do I start with this? Well, you need a radio set up for soundcard digital modes. Download and install WSPR from http://physics.princeton.edu/pulsar/K1JT/. You will also need to keep a perfectly synced system clock on your computer. Even one second drift can make your WSPR experience a waste of time (!). The built-in NTP service of Windows is poor (in my opinion), so please use something that can sync at least once an hour
.
Where do my signals go? You can't see that in the log from the program, but have a look at www.wsprnet.org and select map (a map with my signals is shown in the picture above).
For a better and more thorough introduction to WSPR, please see G4ILO's article about it – it's really good!